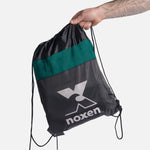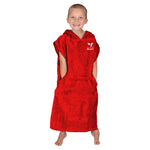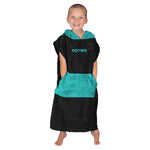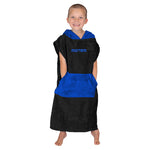 Kids Hooded Towel
100% Money Back Guarantee
Kids Hooded Towel
Discover the Noxen Original Kids Hooded Poncho Towel. Designed exclusively for kids and teens, this poncho towel is crafted from 100% pure cotton terry towel, it promises unparalleled softness and absorbency, ensuring your child is wrapped in cosy warmth after a bath or swim. The front 'kangaroo' pocket isn't just a design element; it provides added warmth and protection, making it a haven for chilly hands or safeguarding precious finds.
We've made some exciting updates to our kids' hooded beach towel ponchos, all with the goal of providing your little ones with the best possible experience. Our classic size is now the "Standard" simplifying your selection process. But that's not all—we've also added extra room to our smaller sizes, ensuring a better fit for kids of all ages.
Here's what you need to know about our kids hooded towels:
Standard Poncho


Features a convenient kangaroo pocket on the front


Comes complete with a reusable swim bag, making it perfect for beach trips and beyond


Available in various sizes:


35x45: A versatile choice for younger children


45x65: Ideal for growing kids who need a bit more space


50x80: A great fit for those under 8 years old


55x90: Perfect for kids and tweens under 60kgs


Pro Poncho


This upgraded version of the Standard Poncho offers even more features


It includes an additional zip pocket on the front, perfect for stashing small items


Inside, there's a hidden zip pocket for added security


Often favoured by young athletes and those in staff uniforms


Available in the same size options as the Standard Poncho


Turkish Poncho


Tassel free


Light weight Turkish cotton


Kangaroo pouch


Zipped pockets on each side


Subtle branding, had a leather embossed logo


Why Choose Noxen Hooded Towel
Our kids' hooded beach towels are the original 100% cotton hooded towels. Here's why they're at the top of the list for outdoor must-have essentials:



Warm and dry – Our hooded towels are designed to keep your kids warm and dry, whether they're at the beach, park, or pool.



Super roomy – The hooded towel's generous size makes it easy for kids to change in public areas.



Versatile – These hooded are super versatile. Your kids can wear them at home or at the bach, lounge around on the couch during a family movie night, get changed after sports activities, or even take them camping. The possibilities are endless!


Even more features!


Crafted from 100% cotton terry towel on the inside


Features a soft-cut pile on the outside


These kids hooded towels are thick, warm, and plush


The hooded design provides extra warmth and protection


They're absorbent and quick-drying


Every hooded towel comes with a FREE swim bag


For a personal touch, consider having your child's name embroidered on their hooded towel


At Noxen, we're dedicated to providing your kids with super cosy, top-quality hooded beach towel. Upgrade their outdoor adventures with Noxen today!
The Noxen Way
Money Back Guarantee
We are so confident that you will love our ponchos that we have a 100% money-back guarantee. If you aren't happy, contact support and we will take care of you.
Lightning Delivery
We se tracked and traced courier for all of our deliveries. You can keep an eye on your package the whole way!
payment secured
With a multitude of trusted payment providers you can be comfortable knowing that our website is secure and we always deliver!
Great Reviews
We have over 300 Five Star Reviews. We are proud to say that we put every effort in to ensuring the perfect out come for every customer.